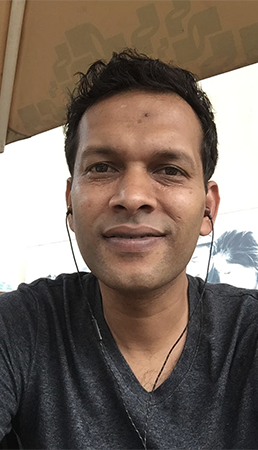 AMBER JAIN
Head of Digital Product

X
AMBER JAIN
Head of Digital Product
As head of digital product, Amber's primary responsibility is to lead MyRacehorse to imagine, develop and deliver great digital experiences to its ever evolving and demanding customer base. His daily activities involve working closely with the customer service, marketing, operations and technology teams to create new and modifying existing business process, culture and customer experiences.
Amber has an MS degree in Computer Science from USC, Los Angeles along with a BS in Electrical Engineering from India. Prior to joining MyRacehorse, Amber served as a hands on technology leader in the digital marketing space building cutting edge MarTech products around attribution, personalisation and campaign optimization focusing on SEM and Display channels.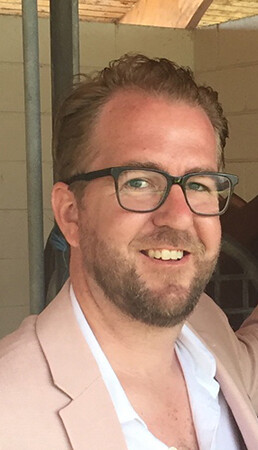 Chris Ransom
Head of Finance & Business Development

X
Chris Ransom
Head of Finance & Business Development
Chris is a key contributor on MRH strategic and financial matters. You'll also find Chris immersed in the ownership experience, making sure shareholders enjoy their day during race day events. Ransom resides in the New York City area where he holds key leadership roles in the construction and real estate industries.
Seeking to combine his varied business experience with his love of thoroughbred racing, Ransom partnered with a New York City based marketing firm to lead the marketing campaigns for two-time Horse of the Year California Chrome and Triple Crown winner American Pharoah.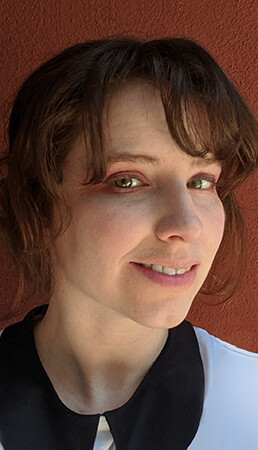 Christine Hipp
Product Manager

X
Christine Hipp
Product Manager
Christine handles much of the behind-the-scenes work for MyRacehorse. She is an integral part of the client support team; assisting with calls, customer requests, order and payment processing, and more. Christine also assists in the preparation and submission of SEC offering documents and is a contributor to the editing and graphic design of many MyRacehorse documents.
A relative newcomer to the racing scene, Christine is becoming a quick study and enjoys getting up close and personal with our runners.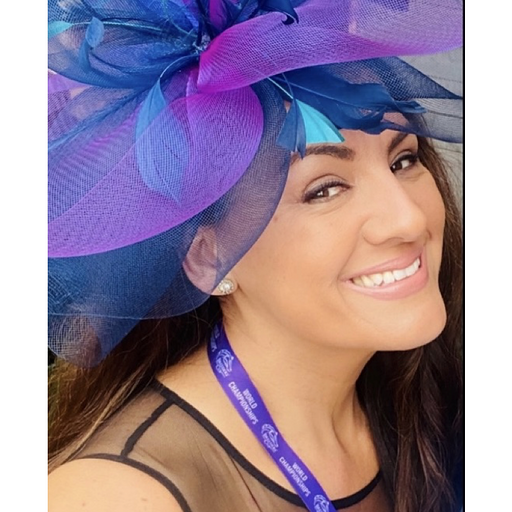 Gina Cervantes
Human Resources and Events Manager

X
Gina Cervantes
Human Resources and Events Manager
Gina's principal responsibilities include planning, coordinating and executing special events. Cervantes also leads the development and management of Human Resource strategies and assists on corporate initiatives.
Gina studied Psychology and Human Resource Organizational Management at Ashford University. She has 16 years of experience in the Human Resources field, as well as banking, client relations and design analytics for a major top Fortune 500 bank corporation. She also dedicated over five years in the retail, manufacturing and Advertising Agency industries.
The love for thoroughbreds runs in Gina's blood from her late Grandmother, who dedicated most of her career working at Santa Anita, Los Alamitos and Hollywood Park. It was her love and excitement for the people, horses and the racetrack she shared early on that captivated and influenced Gina to continue her Grandmother's legacy in the same industry.
Gina is a member of SHRM (Society for Human Resource Management) and PIHRA(Professionals in Human Resources Association).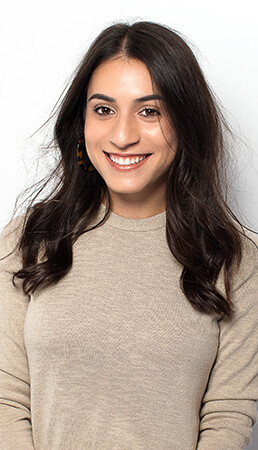 Hannah Bloom
Social Marketing Manager

X
Hannah Bloom
Social Marketing Manager
Hannah has grown up attending the races, a regular at Del Mar, Santa Anita Park, and Hollywood Park, and has always had a love for the sport. In 2018 she graduated from the University of Arizona, studying Journalism and Communication.
Before joining MyRacehorse, Hannah held multiple public relations and marketing positions, including working for the Del Mar Racetrack, Bloom Racing Stable, and most recently with Social & Digital Media Agency, Grand Slam Social as an Account Coordinator working with accounts such as TVG, Breeders' Cup & Fasig-Tipton.
She currently lives in San Diego enjoying her position as Social Marketing Manager and going wherever the horses will take her.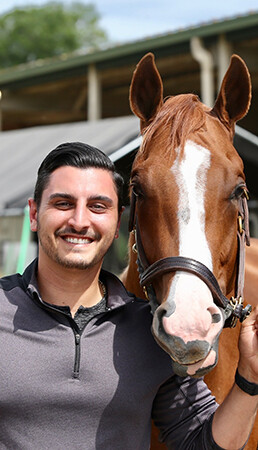 Joe Moran
Racing Manager (California)

X
Joe Moran
Racing Manager (California)
On a daily basis you will find Joe at either Santa Anita, San Luis Rey, or Los Alamitos. His primary responsibilities are keeping MyRacehorse shareholders informed of their horses schedules and updates on a regular basis. He also is a member of the horse acquisition team along with supporting several client relation tasks.
Joe played college baseball at Oklahoma Baptist University where he received a degree in Sports Management.
His father, a lifelong owner and breeder on the California circuit gave Joe his first introduction to horses at a young age. There was no looking back as Joe's passion and love for thoroughbreds only continued to grow. Any free time Joe had was spent at the Mark Glatt barn, farm or sales.  Over time he began helping his father more and more with their operation from claiming, managing, yearling and two year old sales.
When his college baseball career came to an end, he went straight to the backside working for trainer Andy Mathis at Del Mar to further his hands on experience with thoroughbreds. Prior to joining MyRacehorse, Joe started as a hot walker then moved on as a groom shortly after.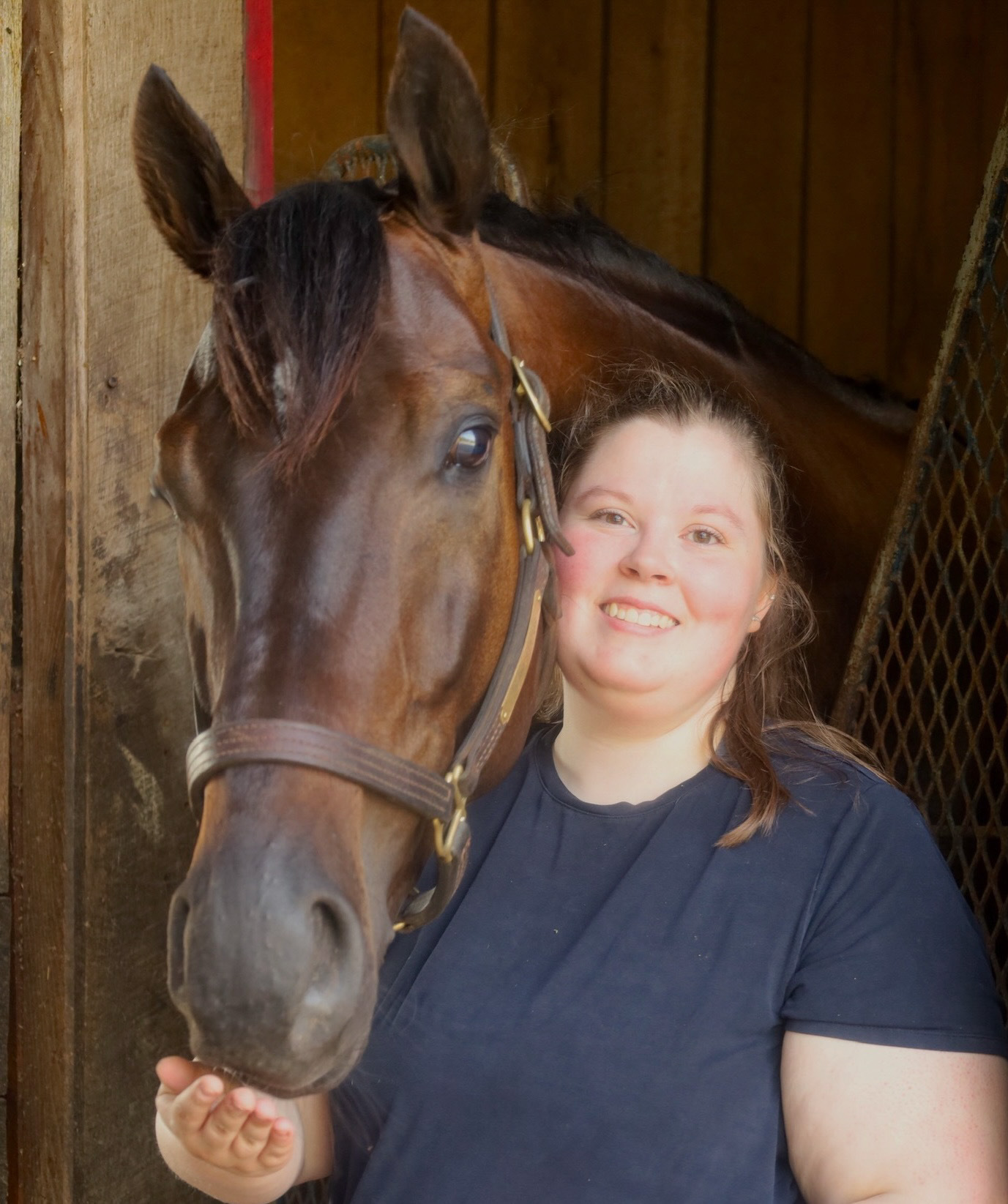 Maddie Armagost
Customer Service Associate

X
Maddie Armagost
Customer Service Associate
Maddie graduated from Lake Erie College with a degree in Equine Facility Management and a minor in Business Administration in 2021. While she was in school she had the wonderful opportunity of interning at Calumet Farm and Margaux Farm. During these internships, she handled anything from foals to horses in training. After she graduated she got a job with MyRacehorse as a Customer Experience Agent.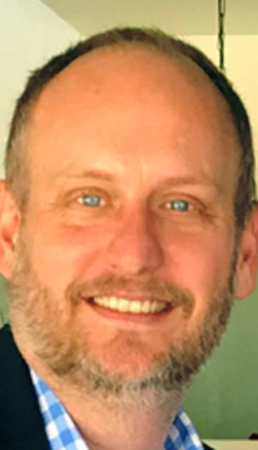 Michael Behrens
Founder and CEO

X
Michael Behrens
Founder and CEO
Michael Behrens is the Founder and CEO of MyRacehorse and is dedicated on a day to day basis of fulfilling his vision of providing every fan the opportunity to experience the thrills of racehorse ownership irrespective of budget. Although most of his hours are spent working on legal, regulatory, marketing, finance and general strategy for the business, his self admittedly best days are at the track with the ownership groups cheering on the MRH horses on race day.
Prior to launching MyRacehorse Behrens was a marketing executive with agency and brand experience developing and optimizing large performance based marketing plans. Behrens led marketing strategy and execution for 100+ top domestic companies; from successful startups to Fortune 500 companies, managing in excess of $800 million in media dollars. Most recently Behrens was the CMO of Casper, one of the fastest growing direct to consumer brands ever, generating over $600 million in sales in three years.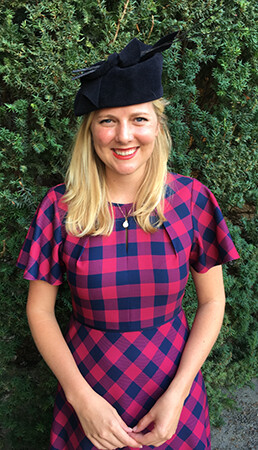 Molly Seiber
Creative Director

X
Molly Seiber
Creative Director
Molly brings extensive creativity to Grand Slam Social as an Emmy nominated producer with 6+ years of experience working in digital and social media. McGill began in 2009 by launching the Breeders' Cup World Championships social media presence and has since managed accounts for Santa Anita Park, The Preakness Stakes, HRTV, and several celebrities and athletes. McGill spearheads video and graphic content and joined Shona to Co-found Grand Slam Social. McGill earned a 2016 Media Eclipse Award in collaboration with the Daily Racing Form for a multimedia presentation on longevity of jockeys.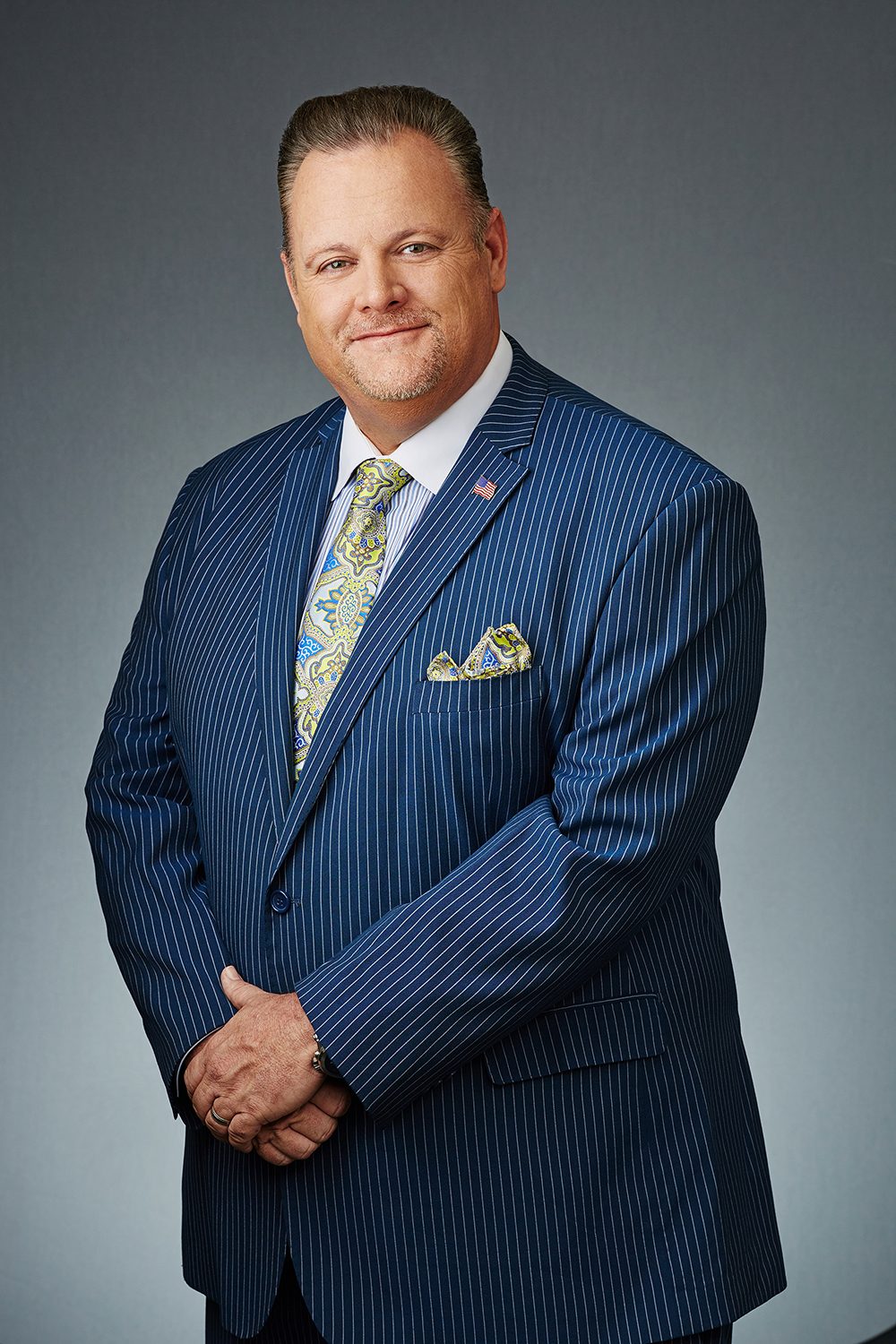 Nick Hines
Advisor

X
Nick Hines
Advisor
Nick Hines, affectionately known as "The Sarge," has been involved with the sport of Thoroughbred horse racing his entire life. Nick has served many roles in the industry including trainer, racing manager, bloodstock agent, and TVG analyst.
Nick advises MyRacehorse on a number of industry matters and serves as a member of the horse acquisition team. Nick is also the lead for MRH Live, a show designed for shareholder engagement which covers many topics including horse updates and race day analysis.
A native of Las Vegas, Nick learned how to read the Daily Racing Form at the age of nine, was born into the industry through his late father, Michael Hines, an attorney, horse owner, and former Nevada State Racing Commissioner whose passion for the horse racing game was highly contagious.
Some of Nick's career highlights include teaming up with his good friend Craig Dollase to win the 1998 Hollywood Park training title and Breeders' Cup Sprint with Reraise and managing a number of Grade 1 performers for Southern Equine Stables including his namesake Salute the Sarge.
Nick resides in Los Angeles with his wife Michelle and son Cash.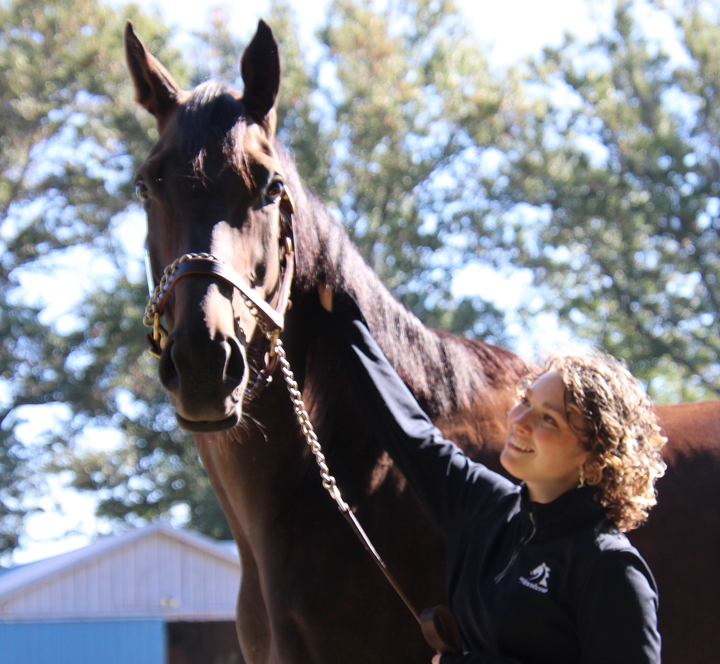 Nikki Morris
Digital Marketing Manager

X
Nikki Morris
Digital Marketing Manager
Nikki Morris caught the horse racing bug at 8 years old while witnessing Barbaro's magnificent victory in the 2006 Kentucky Derby. That very year, her family acquired their first racehorse, Medical First, and her first riding horse, Rise Ball, an Off-the-Track Thoroughbred (OTTB), igniting Nikki's fervent passion for thoroughbreds at every stage of their lives. Together with her father, she founded Risen Storm Thoroughbreds, a small-scale breeding and racing venture nestled in Indiana. With a background in marketing and communications, Nikki is an almost lifelong equestrian and a proud 2020 graduate of Ball State University.
Following her college years, Nikki dedicated herself to assisting small businesses in crafting compelling content marketing strategies and cultivating distinctive brand voices. Simultaneously, she built her own social media platform, which serves as an educational hub on horse racing history and thoroughbred bloodlines.
In July of 2023, Nikki joined the MyRacehorse team as the Digital Marketing Manager, where she leverages her expertise in positioning, advertising strategy, and execution to drive customer relationship management (CRM) and enhance customer acquisition.
Outside the office, you can find Nikki at the barn with her beloved OTTB Uphold, studying bloodlines, creating informative content for her platform, or simply enjoying the company of her husband, Justin, and their animal companions: Cash, Benny, and Azeri.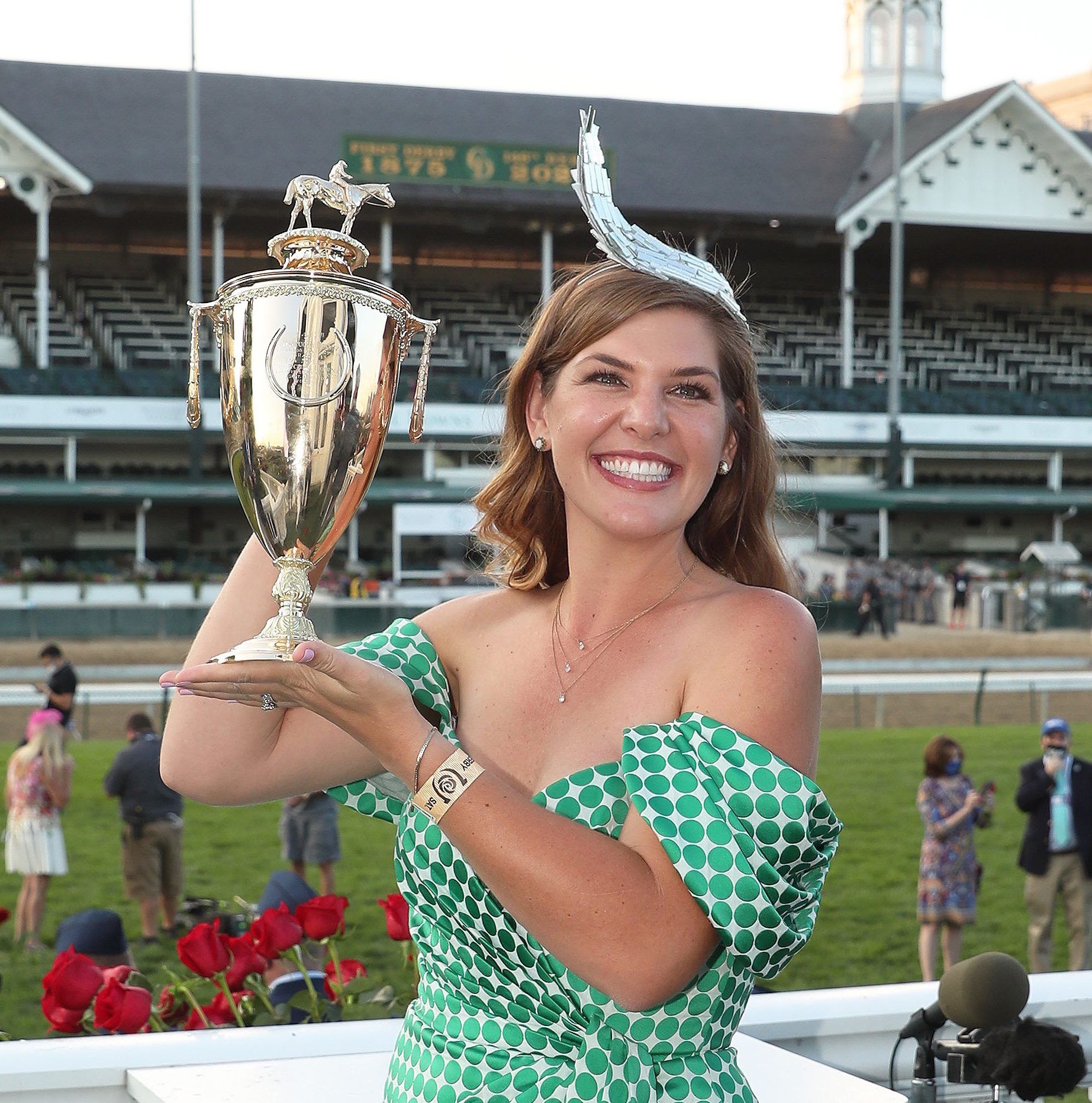 Paige Marcinek
Director of Customer Experience

X
Paige Marcinek
Director of Customer Experience
Paige is a key contributor to the MyRacehorse global strategy and owner experience.  As the Director of Customer Experience, Paige's principal responsibilities are developing strategies and tactics that delight and enrich our customers and deliver exceptional experiences.
With more than fifteen years of professional experience in the Thoroughbred industry and an Equine Science and Management degree from the University of Kentucky, Paige Marcinek has had the opportunity to work in different fields to learn and understand all aspects of the business. Her hands-on experience ranges from an assistant trainer in Lexington, KY, Sales Frontman for Taylor Made Sales Agency, and Head of Horsemen's Relations at the Fair Grounds Race Course, before joining MyRacehorse where she has worn many hats. Paige has been a Thoroughbred owner since 2007 and is well versed in the industry, which has provided her the ability to take on each role that she has thus far successfully.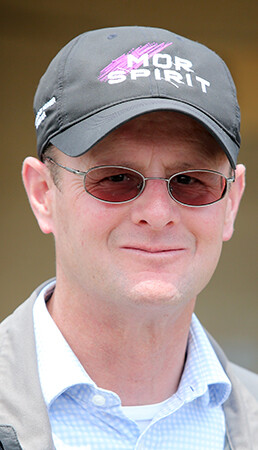 RODERICK WACHMAN
Global Head of Bloodstock and Racing

X
RODERICK WACHMAN
Global Head of Bloodstock and Racing
Roderick Wachman is a lifelong horseman, born and raised in Ireland. After college he worked in England, Ireland, Australia and New Zealand for the likes of Cheveley Park Stud, Yarraman Park Stud, Bill Mitchell and Waikato Stud. In 1994 he moved to Lexington, Kentucky and paid his dues at Brookdale Farm and Bluegrass Thoroughbred Services before starting his own company, Kingswood Farm in 2001. Kingswood Farm specialized in boarding, breeding, raising and selling thoroughbreds. Homebreds included Gr1 placed fillies G City Gal and Self Preservation as well as client horses like Gr1 Arlington Million winner Hardest Core.
In 2014 Roderick started Roderick Wachman Bloodstock to pursue his primary interest, bloodstock services. He has since successfully purchased numerous stakes-caliber racehorses and broodmares in the United States, Australia and Europe.
Roderick joined MyRacehorse in March of 2021 as Global Head of Bloodstock.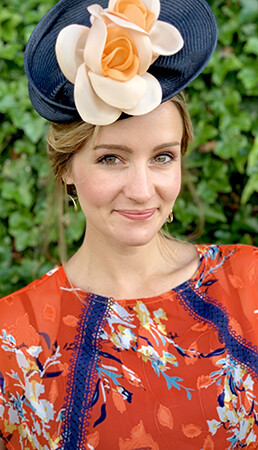 Shona Rotondo
Head of Marketing

X
Shona Rotondo
Head of Marketing
Shona Rotondo is a lifelong equestrian with a rich background in marketing and communications. A Boston University graduate, Rotondo spent over a decade in agency roles navigating the evolution of social and digital marketing for companies like Reebok, IBM, and the Breeders' Cup World Championships. In 2016 she co-founded Grand Slam Social LLC, a boutique social media agency that focuses on marketing strategies for horse racing and equestrian brands.
As the Head of Marketing at MyRacehorse, Rotondo focuses on overall positioning, strategy and execution to drive CRM and customer acquisition. She also contributes to global marketing initiatives designed to create a consistent brand experience in new regions like Australia, UK and Ireland. Rotondo assists with MyRacehorse partnership discussions and the development of deals with events, tracks and other partners.
Outside of the office you can find her at the barn riding horses, spending time with her young daughter (a horse racing fanatic in the making!) or at the racetrack trying to hit a Pick 5 with her husband.
Our Advisors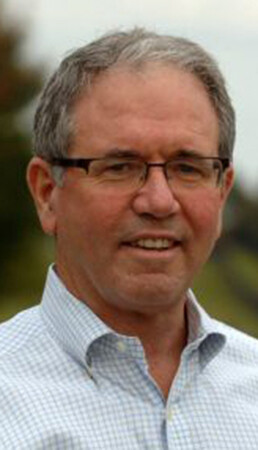 Duncan Taylor

X
Duncan Taylor
Duncan Taylor is the President and CEO of Taylor Made Farm. Taylor Made has two divisions: Taylor Made Sales Agency, the leading sales consignor of thoroughbreds in North America, and Taylor Made Stallions. Taylor Made has a stellar reputation in the industry not only for its sales agency but also for the quality care it provides mares and young horses on its 1,600 acre property in Nicholasville, KY.
Duncan and his brothers Ben, Frank, and Mark learnt the business at Gainesway Farm where their father Joe Taylor, was Farm Manager.
Our Securities, Governance and Legal Partners
Procopio

Securities Law Firm

Vertalo

Transfer Agent

Dalmore

Broker Dealer

Stites and Harbison

Equine Law Firm