Take control of your MyRacehorse ownership experience with the new Owner Preference Center! We're pleased to announce this new feature that allows you to customize updates and control when you receive emails and mobile push notifications. For the first time, app updates, emails and push notifications will be synched in real-time so you receive updates instantly when and where you choose. Watch our brief video tutorials below and follow these steps to get started!
– Log in and visit the "My Account" section of the MyRacehorse app or on desktop
– Select "Notification Settings" to reveal categories
– Choose the type of updates you want to receive by checking or unchecking the boxes to the right
– Hit "Update" to confirm settings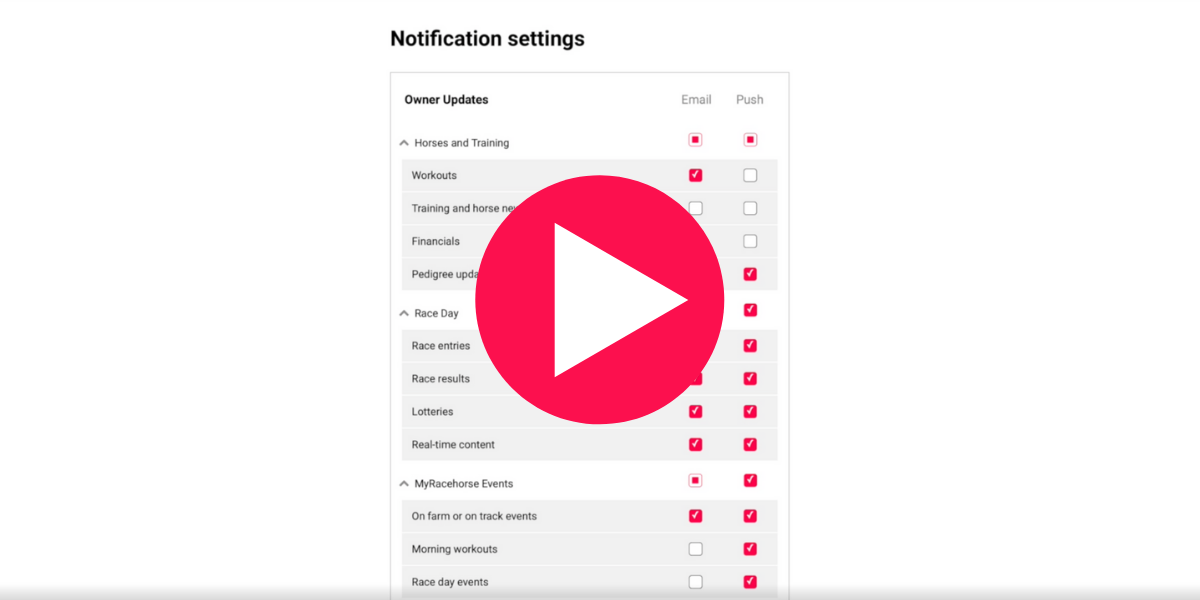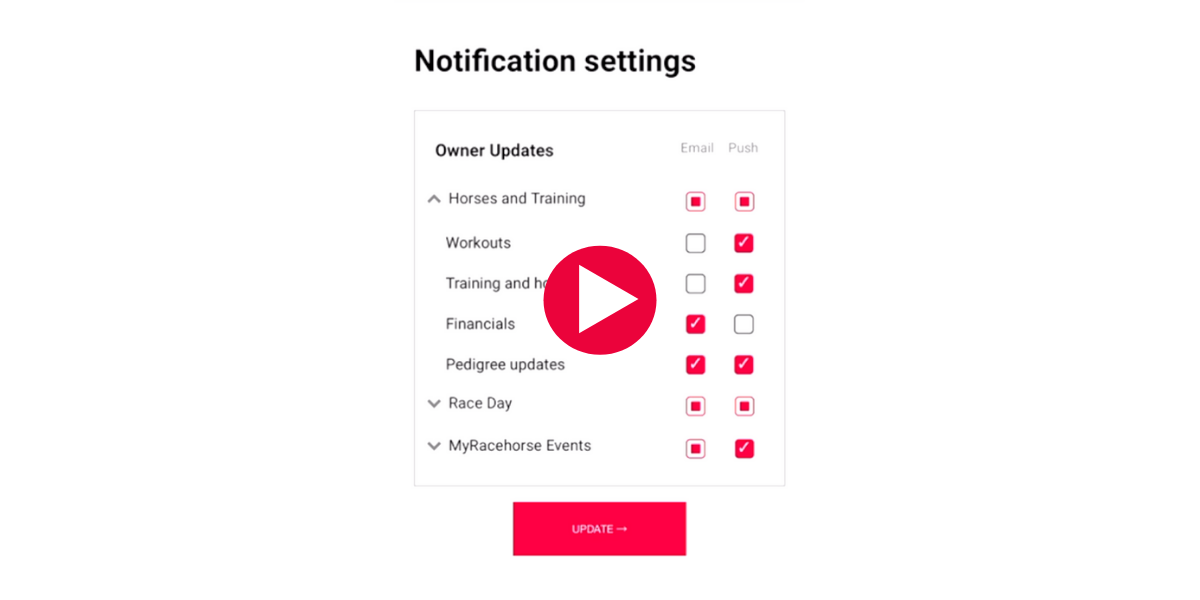 Enabling Mobile Push Notifications
In the MyRacehorse app go to "menu" and "notification" then toggle over the slider next to "push notifications" to enable. Close the loop by going to the "settings" section of your mobile device. Scroll to your MyRacehorse app and click "notifications" from there you can toggle over the slider next to "allow notifications" and select how you'd like them to be displayed. As a helpful guide, we've defined each of the subcategories below to help you decide when and where you'd like to receive emails.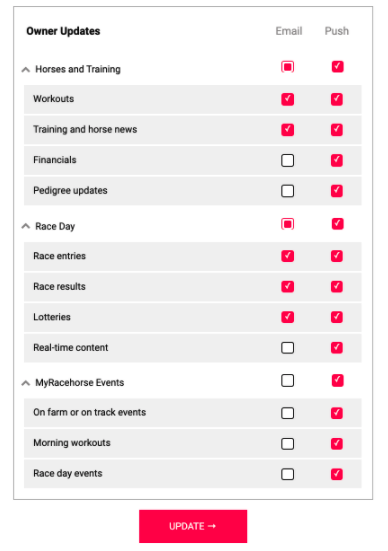 HORSES & TRAINING
Workouts: when your horse puts in a timed work.
Training and horse news: any news on your horse outside of a workout. This includes things like pictures and videos from the barn, shipping news, an update from a member of the team caring for your horse, etc. 
Financials: account reconciliations, projected payouts, etc.
Pedigree updates: information about your horse's bloodlines such as sibling updates or news from the sales ring.
RACE DAY 
Race Entries: details around your horse's upcoming race entry including post position, analysis, and previews.
Race Results: the results of your horses' latest race as well as race recap analysis from the racing manager, trainer, and jockey as well as links to purchase winner's circle photos, plus race replays (when available).
Lotteries: information regarding paddock and winners circle lotteries for an upcoming race.
Real-time content: this category includes any time-sensitive news from race day such as scratches, changes, watch parties, and updates from the paddock preceding a race.
MYRACEHORSE EVENTS
On farm or on track events: information about general farm tours and MyRacehorse parties at the races open to all owners.
Morning workouts: info on opportunities to come to watch your horse work during select race meets. 
Race day events: details around race day events specifically for your horse.
If you have any questions or suggestions, please don't hesitate to contact our support team at 
+1 888.697.2234 or support@myracehorse.com.