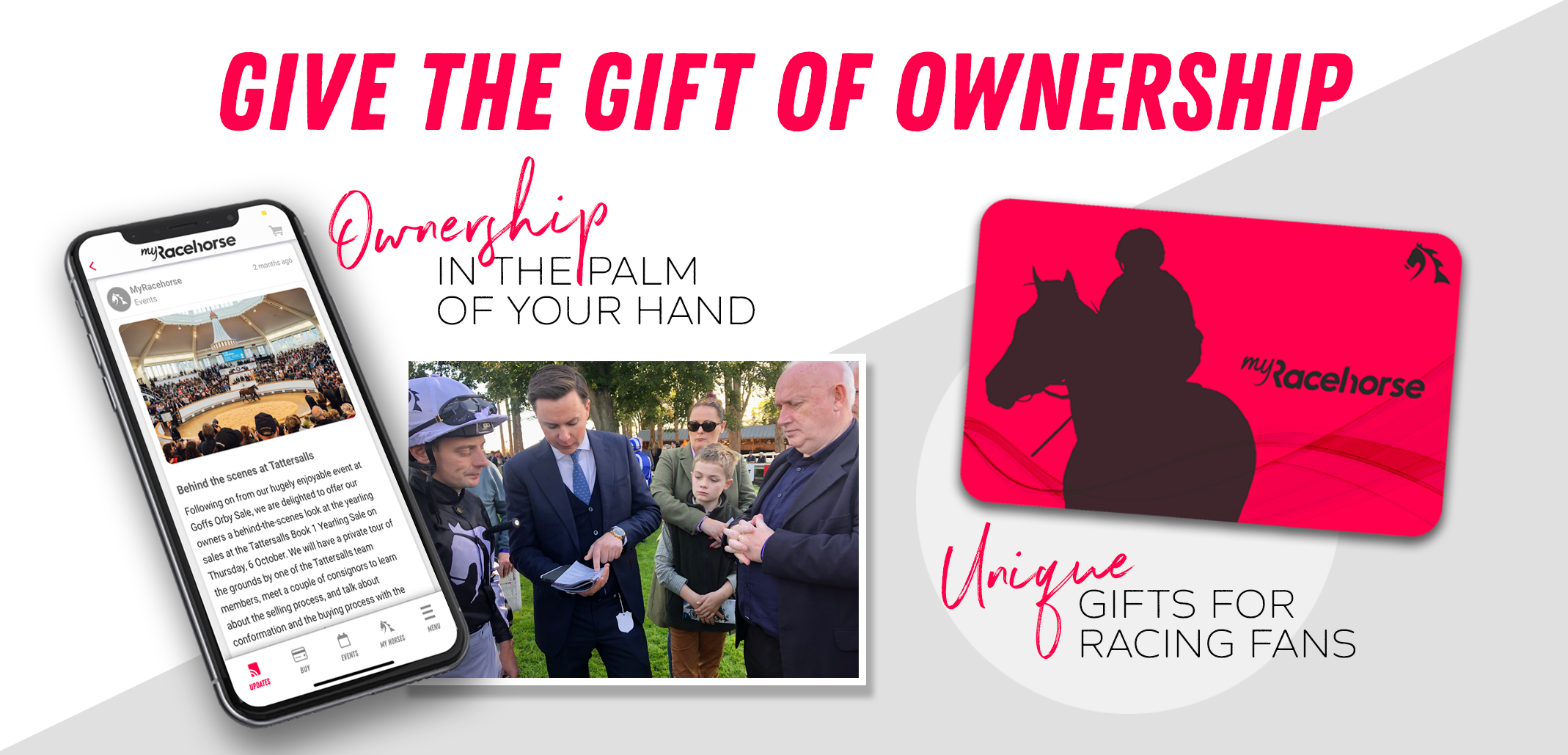 A COMPLETELY UNIQUE GIFT FOR HORSE LOVERS!
MyRacehorse is an innovative racehorse ownership platform that has fulfilled the dreams of thousands of racing fans across the globe by offering affordable ownership. Perks include regular updates on your horse's progress, access to industry-leading trainers and jockeys, and opportunities to attend exclusive owner events during the biggest racing festivals of the year! MyRacehorse offers a truly unique experience that is perfect for the adventurous horse lover in your life.
Purchasing a gift card is easy! MyRacehorse offers digital gift cards that you can download instantly. Ready to win the title of "greatest gift giver this holiday season"? Simply follow the below steps to get started! 
1. You must be a registered user of the site to purchase a gift card. Not registered yet? No problem, 
click the REGISTER NOW button below. 
2. Once you're signed up, go to 'Account' in the top right corner, and 'Buy Gift Card'. 
3. Fill out recipient name, email and your message to be delivered via email instantly.
4. Proceed to checkout to complete your purchase!


Terms & Conditions for Gift Cards: gift cards do not have an expiration date and are not redeemable for cash. They can only be used for purchase of merchandise or shares in a horse* through the MyRacehorse app or website; and the recipient user of a gift card is subject to the same registration process as owners and must meet requirements to be "qualified purchaser" to buy shares in a horse. *'Shares in a horse' means interest in a MyRacehorse SPV that owns a particular horse or group of horses. For more information and detail, please see our full Terms and Conditions of Sale at www.myracehorse.com.