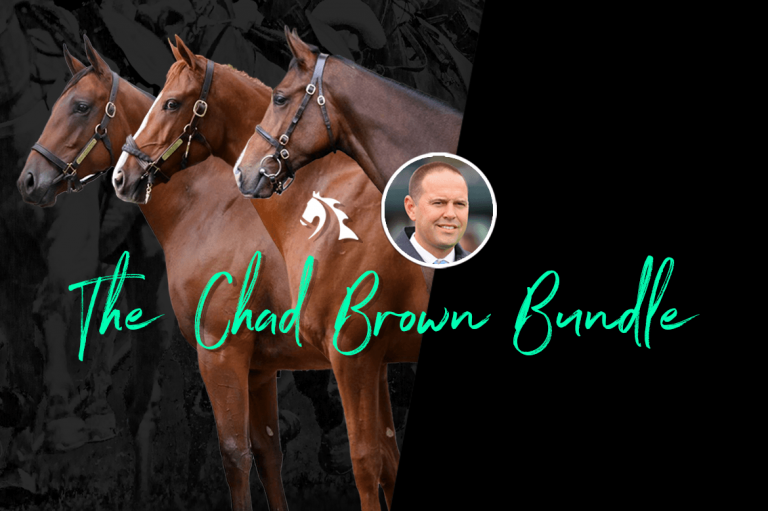 For Immediate Release
Media Contact: Hannah Bloom
                                 MyRacehorse Partners with 4x Eclipse Award-winning Trainer Chad Brown to Offer The "Chad Brown Bundle"
January 24th, 2022 – MyRacehorse is proud to present the latest unique offering, the Chad Brown Bundle. For the first time ever, MyRacehorse is partnering with 4x Eclipse Award-winning trainer, Chad Brown, to offer three incredible 2-year-old prospects. Known as the "Chad Brown Bundle", these horses represent several of the world's most sought-after sires: American Pharoah, Malibu Moon, and Oasis Dream. 
Chad Brown has won more than $218 million in purse earnings and has captured 15 Breeders' Cup Championships, and now MyRacehorse owners have the opportunity to expand their stables with this exciting trio to be trained by a future Hall of Famer. The offerings include Three Jewels, the spitting image of his sire, 2015 Triple Crown winner, American Pharoah, and an individual who boasts an exquisite female line, featuring 2018 Triple Crown winner, Justify. Night Combat is a stunning filly by the late Malibu Moon, and is bred and has the looks of being able to run all day long, and last but not least, Splashdown '20 is a filly destined to make an impression on the turf by European powerhouse sire, Oasis Dream. 
Michael Behrens, CEO & Founder of MyRacehorse, expressed his excitement for the new offering. "I am particularly excited about this offering, not only did we find three yearlings with impressive physicals and strong pedigrees, but we built this through our exhaustive sales work at both Keeneland September and the Tattersalls October Yearling Sale, two of the premier sales for yearlings in the world. We love the quality and we could not behappier to be sending them to one of the most impressive horsemen in our industry. With Chad, these horses could be any type, turf or dirt, precocious or later, sprinters or routers, I'm uber impressed with his versatility, and when you have a nice horse that's what you want, a trainer that has a program versatile and strong enough to maximize their talents wherever they may best manifest themselves." 
Shares for the Chad Brown Bundle start at $234 and include all three standout horses. All information about the Chad Brown Bundle can be found here: https://myracehorse.com/chad-brown-bundle/ 
Make sure to check out the latest MyRacehorse show, Wire to Wire, an exclusive show discussing MyRacehorse wins, updates, and interactive questions. 
About MyRacehorse: 
MyRacehorse is a racehorse ownership group offering SEC-qualified fractional ownership opportunities. A one time payment unlocks a true pro rata share of equity in top racehorses of the best pedigrees trained by the stars of the industry. MyRacehorse celebrates the pride of ownership, making it both easy to try and accessible to the masses. Ownership perks include exclusive experiences as well as access to behind-the-scenes digital content. Started in 2018, the company has grown, both in the number of horses in its stable and in the size of its ownership group. As co-owner of the 2020 Kentucky Derby winner, Authentic, 5,330 owners took part in an incredible journey with the colt who was crowned the Horse of the Year. To learn more, head to myracehorse.com. 
###

MyRacehorse is offering securities only through the use of an Offering Circular that is part of an Offering Statement qualified by the Securities and Exchange Commission under Tier II of Regulation A. A copy of the Offering Circular may be obtained by clicking the link in the post: https://bit.ly/2TrMxUW