using your coupon code
Scored VERMILLION DRAGON (Savabeel x Lottery colt) for just $75? That's awesome!
Let's get your account up and running so you can enjoy all the MyRacehorse benefits because there's nothing like being an owner and experiencing the thrill of horse racing.
The process is broken into three key steps:
1 Create an Account (skip this step if you already have a MyRacehorse account)
2 Select the VERMILLION DRAGON (Savabeel x Lottery) offering (click here)
3 Proceed to payment
1 Follow the link from your e-mail or click here
2 Fill out all of the required fields
3 Click SIGN UP
1 Click here to view the VERMILLION DRAGON (Savabeel x Lottery) info page – get your first micro-share for just $75 with your unique Coupon Code.
(An example of a horse info page below)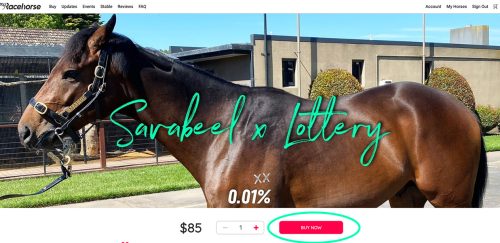 2 Once you have settled on your quantity, click BUY to proceed to the next step and accept the T's & C's
NOTE: This will automatically take you to your shopping cart. Click BUY again in the menu if you would like to add another horse to your cart. Please note your discount is ONLY off your first share. 

3 Enter your coupon code (you received in your email) in the 'Coupon Codes' section (highlighted green in the below image) and then click APPLY.
(An example of the shopping cart below)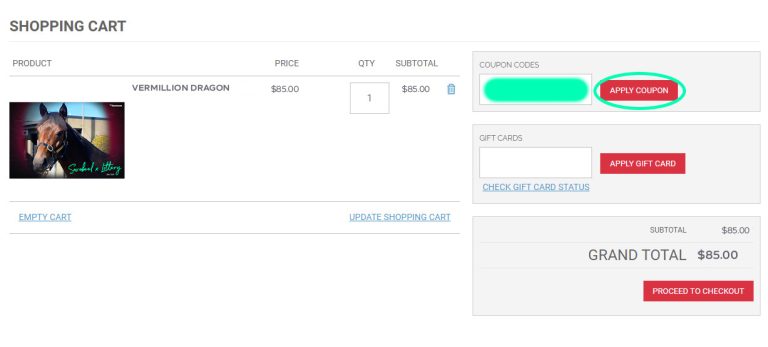 4 Once you click APPLY, your page will automatically reload and you will notice the grand total has updated. Click PROCEED TO CHECKOUT.
(An example of the shopping cart below)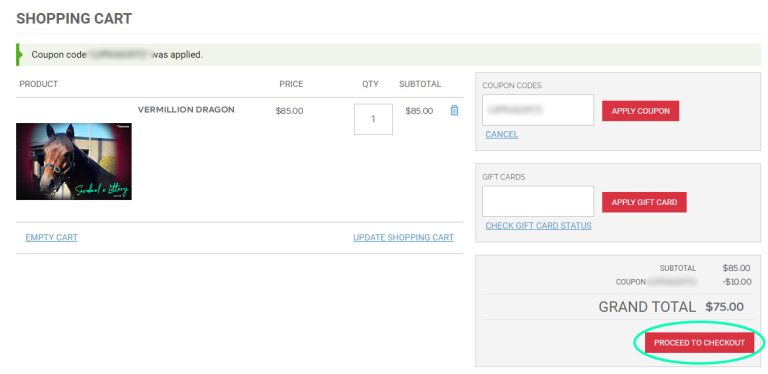 1 Enter your billing details and click continue
2 Enter your payment information and click continue
3 Review and confirm your purchase
and that's it!
thanks for joining the myracehorse family, we look forward to seeing you on track soon.
Any issues? Contact the team at MyRacehorse Support! Send an email to ausupport@myracehorse.com
Copyright © *2023 MyRacehorse, All rights reserved.
$10 discount offer available in respect of a single purchase of MyRacehorse's Vermillion Dragon until micro-shares are sold out. Maximum one micro-share per code. Offer not available on any other micro-share offering. Only available to the recipient of the Race Connects email with discount code. If not used discount code will expire 6.59pm AEDT 30 January 2023. This offer is exclusive to Race Connects subscribers. "Micro-share" refers to a unit of a class (e.g. Class A, Class B, etc.) in My Racehorse No. 1 ARSN 646 771 262 (Scheme), promoted by MyRacehorse Pty Ltd "(Authorised Rep 001284902 of AFSL 223671)". Investments of this nature are speculative. Refer to the relevant PDS before investing.